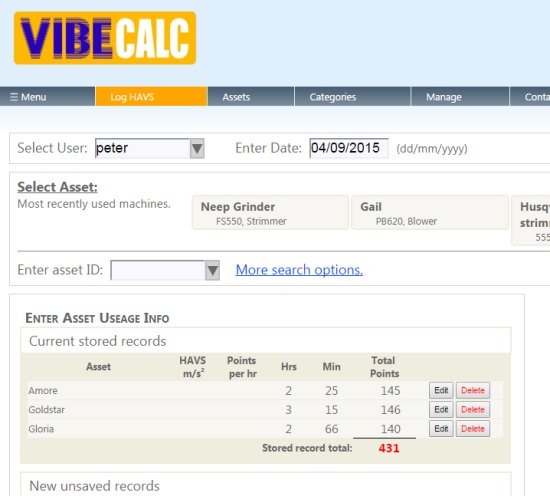 Assuming that your employer has set HAVS points-per-hour values for your organisation's various tools, then you can easily check and log all your vibration exposure, to help you and your employer ensure you stay within safe daily limits.
To add a new record of your vibration exposure, or to check how many HAVS points you (or a colleague) would clock-up for a certain tool used over a given number of hours:
Select the person exposed to the vibration. By default this will be yourself, if you're logged in as 'you'. If you have special admin privileges, you will be able to select other people to key-in data on behalf of (for example, a charge-hand keying in their team's HAVS points).
Find the relevant tool from the list of assets, by typing in part of its ID / name into the 'Asset ID' or 'Search for Asset' box. Then select that tool from the option(s) listed.
Fill in how many hours / minutes you have used, or intend to use, the vibrating tool for.
VibeCalc indicates how many HAVS points this would be. If you have exceeded, or are approaching your daily points limit, it indicates this with colour-coding.
Repeat steps 1 – 3 for each tool used throughout the day.
Managers can analyse data to pick up on any problems and issues, by viewing management reports.
1. What is VibeCalc?
2. Logging in.
3. Finding what you're looking for, in the asset lists.
4. Logging information.
5. Calculating hand-arm-vibration (HAVS points).
6. What to do if you need help or hit a technical difficulty..
7. Keep your data accurate.