Vibecalc is software for calculating and logging HAVS points.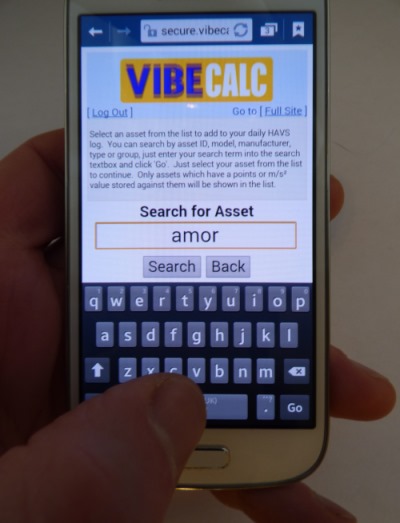 If you're not sure what HAVS points are, what hand-arm-vibration is, or what the dangers are, then before you read any more of the instructions here, you should first click here to have a look at the relevant guidance on the HSE website.
VibeCalc is:
For any firm who use vibrating tools, such as building firms, engineers, grounds-maintenance contractors.
Accessed using smartphones (online or offline) or computers, allowing anyone in your organisation to access and update their vibration-exposure data, any time, anywhere.
Benefits include:
Instant on-screen calculations help ensure your colleagues stay within safe daily limits.
You don't have to install anything – simply log in via a browser (in much the same way that you access other web services like Gmail / Ebay / Facebook / Surveymonkey).  It works on any platform, whether it's Apple Mac, Android, PC, etc.
Works offline. If the browser is HTML5 compatible (most browsers on smartphones are nowadays), you can save relevant asset details for offline use, so that you can calculate and check your HAVS points in areas with no wifi or phone signal.
Can link with its sister application, 'ToolFleet', if you want to keep track of your machine and vehicle servicing, inspections and repairs.
1. What is VibeCalc?
2. Logging in.
3. Finding what you're looking for, in the asset lists.
4. Logging information.
5. Calculating hand-arm-vibration (HAVS points).
6. What to do if you need help or hit a technical difficulty..
7. Keep your data accurate.